Vektron Revenge
"Inside an old arcade shooter, use your gaze to defeat waves of geometric enemies all in full VR glory!
Vektron Revenge is an old school style shooter done exclusively for VR. The playfield has not limits as you will be avoiding and destroying waves of enemies in a 360 environment. But beware of 3D obstacles that come in your way and use the devastating shooting spray of the Revenge power up wisely to clean up the levels from the toughest baddies.
The fastest you clean a wave the bigger the wave bonus. Concentrate on grabbing the blue pills coming from enemies to score extra but don't be to greedy or you might end up trapped in a difficult position.
Try to be the best as you climb the ranks through the world leaderboards. May your name be among the coveted top 10 of the Vektron hall of fame!" – Website
VR Tennis Online
The best I can do here is point you to the snippet of footage a the 1:40 mark of Oculus' official launch games video. 😮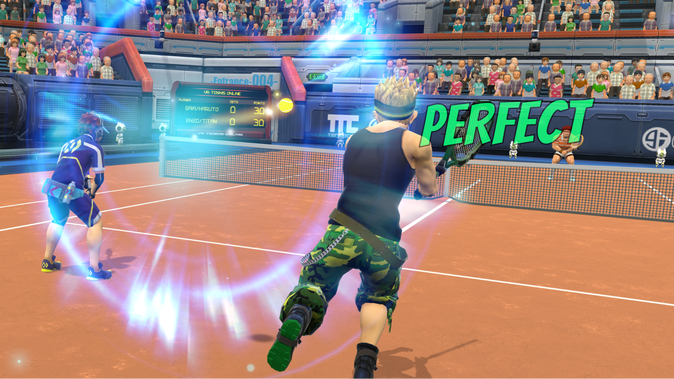 "A new online multiplayer tennis game is available from COLOPL with "VR Tennis Online"! Choose from eight unique players and enjoy realistic strategy with simple controls by using four base shots and an assortment of Killer Techniques.
Online Features Automatically matches you with opponents based on your rating, winning matches will allow you to face off with stronger opponents. Separate ratings for Singles and Doubles so you get matched with people of similar rating in each category." – VR Scout
Pinball FX2 VR
"We are excited to announce that Pinball FX2 VR is coming to the Oculus Rift on March 28th! Featuring advanced physics, detailed 3D graphics, robust social features combined with an immersive virtual reality experience, Pinball FX2 VR is pinball like you've never experienced before!
Pinball FX2 VR replicates the atmosphere of real-life pinball machines in a virtual play space, while presenting gameplay features and effects that simply cannot be recreated on a physical machine. Additionally, the game's rich scoreboards will track your Pro Score, Team Score, table stats and more to let you compete against players from all over the world!
Harnessing the power of the Oculus Rift, Pinball FX2 VR transports players into an exciting new way to play pinball, moving beyond the silver ball and into a mesmerizing VR experience! Animated playfield toys spring to life on stunningly active table environments with spectacular depth.
Creating a brand new way to play pinball that deftly combines the look and feel of digital pinball with the sensation of a real-world experience, Pinball FX2 VR is the premiere place for pinball action on Oculus Rift!" – Website
BlazeRush
"Welcome to the world of racing and frantic fun!
BlazeRush is a dynamic arcade racing survival game with no health, no levelling and no brakes!
You can assemble a team of friends to play in local or online multiplayer, choose a car to your taste and chase, blow up and cut off!
Adapt your style and tactics to new enemies, obstacles and tracks." – Website
Windlands
"A first person grappling hook exploration game. Soar through the ruins of a fallen civilisation and discover the secrets of the ancient world. Also includes Virtual Reality support for the Oculus Rift and HTC Vive." – Website
Final Word
There are some pretty amazing games available for the Rift at launch, covering a whole range of genres, which means there should be something to satisfy anyone and everyone that's gone and pre-ordered one (and it will be arriving very soon for some of you).
I'm totally jealous, because I can't actually afford any of these new VR headsets, but at least I can vicariously experience the joy of playing VR by watching lots of YouTube videos of you guys playing the various launch games. So, make plenty of cool gameplay videos for me, please (of all the launch titles). 😀