It brings up real strong feelings of nostalgia when I look at the covers of Edge. I'd started collecting the magazine right from issue 1 as a young adult obsessed with video games, and I'd amassed a pretty impressive collection (nearly a couple of hundred issues with only a few missing) before I ended up having to sell the whole lot for less than £100 roughly some time shortly before issue 200 (for both money and storage reasons).  There are times where I genuinely miss being able to reach up and grab an issue from the shelf to scan for a few mins of retro-gaming bliss–but I guess we have the Internet for all that now (although it's never quite the same). Here's just a few of my favourite covers from over the years: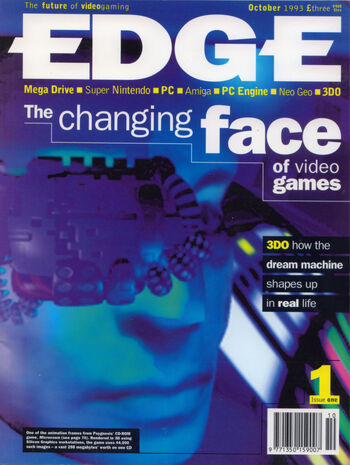 Check out the full collection here.
Sadly, no one appears to have collected all 200 of the individual covers that Edge created for the 200th issue of the magazine (the full set used to be on the Edge website but that's gone now); now that would be a site to see. This is doubly disappointing for me personally because I actually think most of the best Edge covers of all time are part of this collection. They often have a very simple, almost graphic design look to them, which I love. Here's a small sample of a few of the covers (it's the best I can do):

A few more (with some doubles):

And a handful more still (with slightly bigger images):
Lastly, here's a full size image of one of the 200th issue covers, just for fun:
If anyone ever endeavours to archive the entire set . . .